About Us
Building the future of hedge fund solutions
We're empowering managers and investors to launch and operate more effectively and unlock their maximum potential through modern fund software. We envision a world where fund managers can focus solely on investing and LPs have full transparency and access in private funds.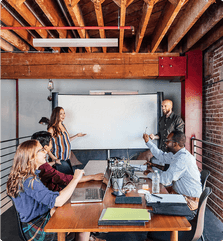 Our founding team realized that the fund services and launch industry was stuck in the past – services and operationally heavy, burdensome offshore support, antiquated technology, and a lack of drive to innovate. While other private markets infrastructure has radically transformed asset classes like private equity and venture capital, the hedge fund space has remained woefully undisrupted. To achieve our vision of modernizing hedge fund infrastructure, we're building a team of Silicon Valley technologists working alongside operators and experts from the street.
Our philosophy
A relentless focus on exceptional client experience
We know that above all, fund managers want to focus on investing – not backoffice. Repool's consultative, responsive team of experts that understand you sets it apart from traditional offshore, cumbersome support teams.
Know what matters
We're hyper focused on building the most important things - not all the things.
Clients come first
We keep support onshore, emphasize responsiveness, and seek collaborative solutions.
Technology leadership
More than any other services provider, Repool is and will be a technology platform.
Focus, focus, focus
We explicitly do NOT work with every fund we can, so we can focus on those that we do.
Innovate and delight
Our team is always asking how we can push boundaries and deliver industry-firsts.
Be a partner
We don't see ourselves as a vendor - we're a partner to every single client.
our investors
The best in the business believe in our vision
Leading venture capital firms:
And angel investors from:
careers
Come build a generational company
We want Repool to be a transformative experience, no matter where you are in your career. Tackle challenging, high-impact problems alongside world-class colleagues.