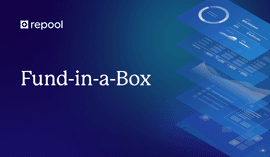 Blog
Press Release
Repool Launches Turnkey Platform To Modernize The Antiquated Hedge Fund Industry
Posted on
Read time
3 minutes
---
Repool Launches Turnkey Platform To Modernize The Antiquated Hedge Fund Industry
SAN FRANCISCO, CA — June 29, 2022 — Repool, a Y Combinator S21 fintech, announced today that it has come out of beta testing and launched its fund-in-a-box and fund administration solutions to automate and simplify fund services for emerging managers.
Founded in 2021, Repool's team has rapidly developed technology that allows aspiring emerging managers and existing firms alike to easily launch funds. The company shared that it raised a $3.7M seed round in the fall of 2021 and has used the financing to expand its core team with key hires across Engineering, Finance, Business Development, and Marketing. Notable firms such as Canaan, Matrix, and Global Founders Capital participated in the round, alongside angel investors including founders from Brex, Jeeves, Mercury, Flexport, Outschool, Pilot, and Forge, and executives from Goldman Sachs, Barclays, and Bank of America.
The startup has already launched more than a dozen funds with emerging managers keen for a partnership that simplifies an overwhelmingly intricate and time-consuming process. While traditional fund formation often takes several months to complete, Repool enables fund managers to be fully operational in just a matter of weeks.
"Launching a hedge fund is notoriously complex, expensive, and antiquated," said Kevin Fu, Repool's CEO and co-founder. "Aspiring managers are traditionally left to research, seek out, and manage multiple disparate vendors while navigating complex legal and regulatory hurdles as they go through the fractured process of setting up their fund over many months. We're simplifying that process and democratizing access to private funds." 
The company handles all aspects of fund launch from entity formation to legal documents, fund administration and accounting, compliance, brokerage set up, banking, and investor onboarding. Post-launch, Repool's easy-to-use software enables fund managers to provide a seamless experience for investors interested in joining their fund. By automating these processes, Repool frees up a significant amount of time for fund managers to devote toward other aspects of fund management.
"We've built an end-to-end platform that makes the entire process of fund launch extremely simple for emerging managers," said Justin Carrao, Repool's CTO and co-founder. "We free them up to focus on value-add activities like strategy, execution, and fundraising."
About Repool
Founded in 2021, Repool was designed to modernize, automate, and simplify the antiquated hedge fund industry. Its fund-in-a-box and fund administration solutions allow aspiring emerging managers and existing firms alike to easily launch funds. The company has offices in San Francisco and New York. To learn more about Repool visit www.repool.com.
Read the full press release.