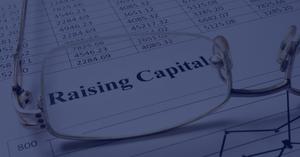 Blog
Launching a Hedge Fund: How to Raise Capital - Defining Your Story
How do emerging hedge fund managers raise capital? One of the most challenging aspects in the early days of launching a hedge fund is raising capital. In our 3-part blog series, we lay out how the most successful new fund managers typically raise capital. First, defining your story.
Posted on
Read time
5 minutes
---
How Do You Raise Capital For A Hedge Fund?
When raising capital for your hedge fund, you need a clearly defined story establishing the validity of your investment strategy and the opportunity it presents. Your hedge fund story distinguishes your fund from all the rest, highlighting its value with compelling facts. Therefore, before approaching prospective investors, you need to develop your pitch, outline your strategy and learn how to present a persuasive argument that your hedge fund will see results.
What is Your Pitch?
When raising capital for hedge funds, you must develop a convincing pitch that clearly defines your strategy.
What are your hedge fund's focus industries and markets?

What are the opportunities in these markets?

What figures and stats prove this market is currently ripe for investment?
A convincing pitch differentiates your offering, so investors can focus on the opportunity.
What is Your Strategy, and Why?
Your hedge fund strategy tells investors how their investment will generate active returns and how much risk it presents. Your story includes an overview of your strategy and explains why it's ideal for your financial product. For example, if you use a long/short strategy, explain how investing in long positions for high-performing investments helps finance short positions for underperformers. Investors want to understand how you reduce risks while providing more impressive gains.
A higher-risk strategy appeals to investors with a higher risk threshold. In this case, you might focus on an event-based merger arbitrage strategy. Investors need to know how you take advantage of merger activity by investing in shares in the company targeted for takeover and short-selling shares in the buying company to compensate in case the transaction doesn't close. Other events might be corporate reorganizations, which again present a high risk because the company might collapse before the reorganization is complete. Again, investors need to understand why you might choose this strategy so they feel confident your hedge fund can deliver results.
Learn How to Sell Your Strategy
Selling your strategy – and yourself – takes practice. You need to learn how to tell your story in a concise and relatable way. Known as an "elevator pitch," to sell your strategy, you want your pitch to reflect your knowledge instead of sounding like you're simply reciting statistics. Although short and sweet, you want to get the point across and make it clear you understand the deeper meaning behind the why's of your story.
Some points to help you learn how to sell your strategy include:
Value: Make sure your pitch addresses what your investors value most. How does your hedge fund and "brand" deliver that value?
Unique Value: Make it clear your hedge fund is unique with points comparing it to leading/competing hedge funds. Flaunt your advantages to win investors over quickly.
Keep It Relevant: Avoid going off on a tangent, even if that tangent is fact-based. You'll lose your audience if you don't offer a clear and engaging presentation that leaves no doubt you're the best game in town.
Speak, Don't Recite: Know your information inside and out so your pitch is conversational and natural instead of forced and practiced. List essential talking points and practice a short, sweet, and informative way of explaining them.
Avoid Jargon: Buzzwords and jargon are confusing and appear too salesy. Using laypeople's terms feels more authentic, putting people at ease. Unfortunately, jargon can also come across as disingenuous, making people feel like they're being swindled.
Make an Emotional Connection: Make a statement that resonates with investors. Remember our first point: Bring value to the forefront. What key points show investors you are well-informed, understand their needs, and can deliver on your promises?  
Overcome Objectives: Proactively sharing information improves transparency and overcomes objections. Understanding investor pain points can create compelling arguments to sell your strategy.
Be Consistent: Keep things structured so your information is consistent, and do not leave openings for discrepancies that reduce trust.
The 5 W's: Make sure you explain the what, who, when, where, and why, along with the how to cover all bases.
The Right Service Providers: Select service providers that fit your brand, so the entire message is in alignment and congruent from start to finish.
Utilize Cap Intro with Your Prime Broker
Capital introduction is often offered by your prime brokerage to help you develop enough critical mass to become profitable. By introducing you to their institutional investors interested in your particular strategy, raising capital for hedge funds takes less effort. You can also look for events in your area that introduce investors to fund managers.
Stay tuned for Part Two of our Raising Capital content series: Building Relationships.